| | | |
| --- | --- | --- |
| | VS | |
June 3rd 2012
Time 7:45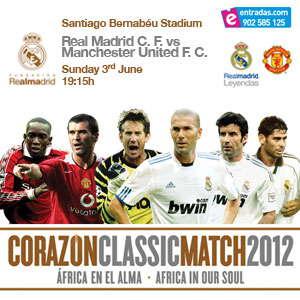 Zinedine Zidane will be one of the star players in the Corazon Classic Match. The former player and current First Team Director participated in previous editions against AC Milan and Bayern Munich.

As a Real Madrid player, he faced Manchester United in the 2002/03 Champions League quarterfinals, reaching the semifinals with 3-1 and 4-3 scores at the Bernabeu and Old Trafford, respectively. He previously faced Manchester United with Juventus and scored at Old Trafford in the 1997/98 Champions League group stage.

Zidane arrived at Real Madrid in 2001 "to win the Champions League with the team," which he managed to do in 2002 with a spectacular goal in the final against Bayer Leverkusen. The strike assured the player a place in Real Madrid history and kickstarted a run of three international titles he won with the team, the following two being the European Super Cup and the Intercontinental Cup.

Zidane retired on 16 May 2006 while at Real Madrid following four years at the club in which he showcased exquisite elegance and technique.